Whilst living on Temple Quay, Bristol for two years I got to know some pretty groovy people. This page pays homage to these legends of the waterway.
In boat order ...
Matthew & Brendan – Greenwood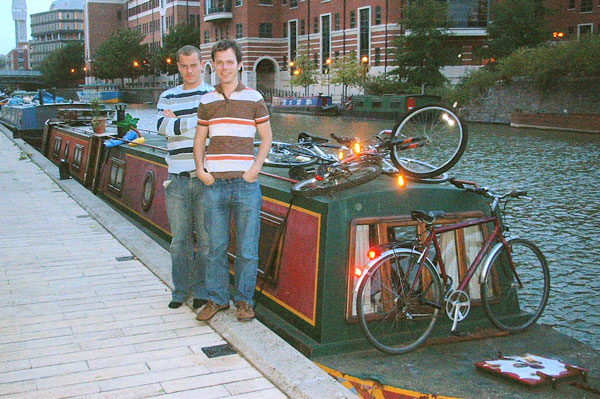 That is me and my brother. Matt's occupancy would probably be best described as seasonal (i.e. in Winter when it's much less fun living on the boat, he would spend most of his time at Eleanor's). You can get out of any chore on the boat so long a you kiss the portrait of Ed B. My place is now taken by Kristian who unfortunately, completely failed to inherit any of his father's joinery skills and Eleanor which means Matt's first real Winter.
Greenwood itself is a cosy hobbit hole of a boat with round wooden windows and a distinctly claustrophobic feel, especially when drying laundry. Perhaps the only boat in the harbour with a piano. Destined to forever need painting now that I have left.
Nick – BFG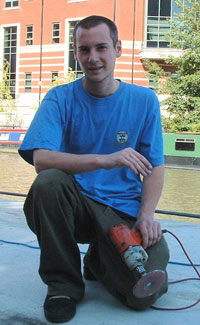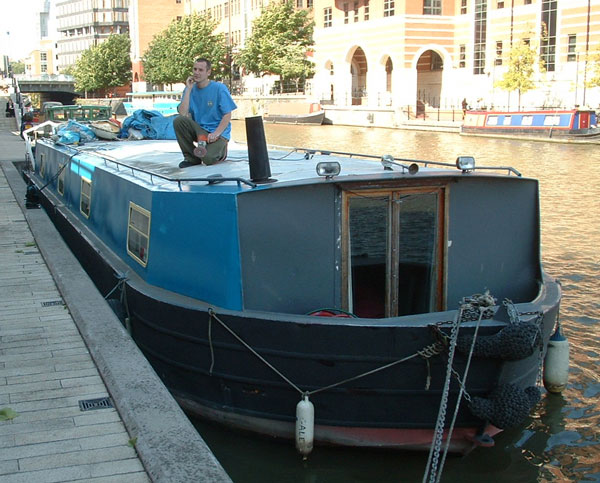 Nick was our immediate neighbour whose cat, Otter, liked to turd on Mat's bed (twice). Our possessions were interchangeable and I suspect that half our toolkit belongs to him and vise versa. Nick practically lives at Gardner Haskins and can do a great Irish accent.
The BFG is well known for not being known as the BFG. We used to call it the 'battleship' for ages when it was grey or just 'Nick's boat'. The inside is huge, plenty of room to swing a cat, although Nick would never let us try.
Mike – Salad Days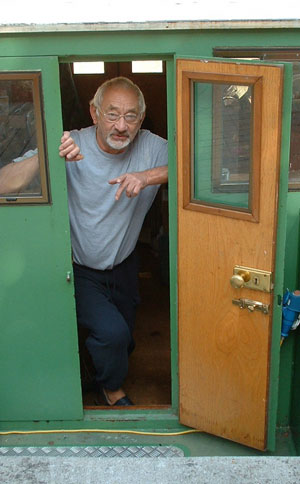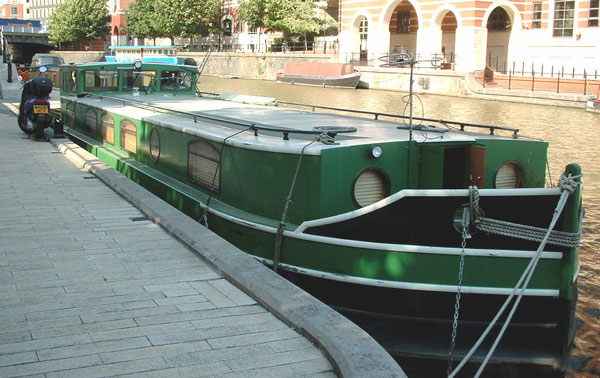 Mike is nutshell is a kind of grumpy Hugh Hefner. A Londoner who is not afraid to call Nick an idiot. As a photographer he gets to take photos of lots of hot chicks in not many clothes.
The fact that Salad Days has a fridge-freezer and many other mod cons that nobody else has only makes us even more jealous.
Scott & Abi – Lady Emily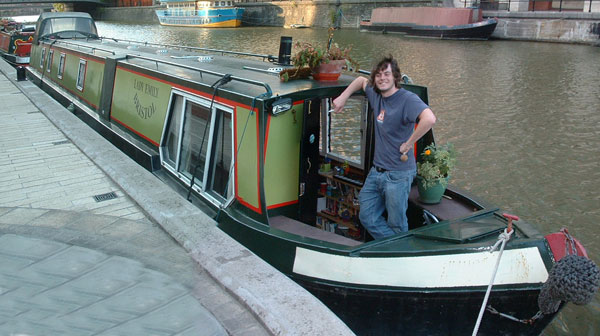 I haven't had chance to get to know the new-comers Scott & Abi but seem like a likeable pair. At least nicer than the townie couple who were on the boat before.
In case you think that Abi is Scot's invisible girlfriend or something, it's just the way Scott is stood. Abi was excused from the photo as she was at her parent's house.
Dave – Talisman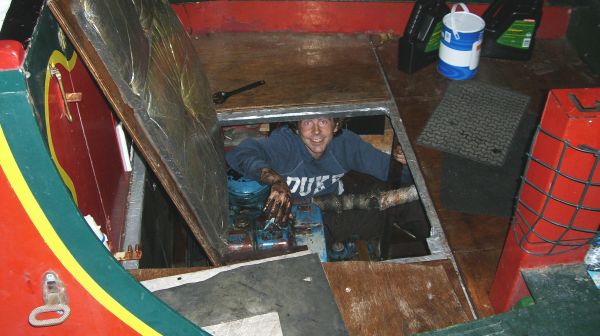 Dave owns the town of Bristol through a complex web of free-rental bribes at 20th Century Flicks, as a result has probably not needed to buy a pizza or pay for a taxi in years. Famously bought a ninja costume from eBay and tried to break into Glastonbury with a grappling hook made from his anchor. Now he composes mournful songs to his beloved cat, Roland (RIP 2006).
The Caribbean fun shack on the bow of Dave's boat is now in its second incarnation after he drove under a low bridge and knocked the last one off. The fake lawn is a recent addition.
Alfie & Rosie – Whistler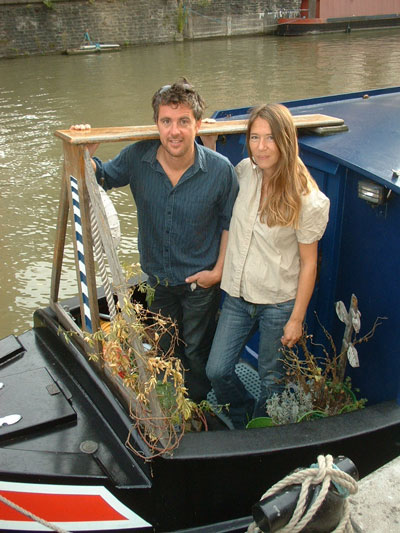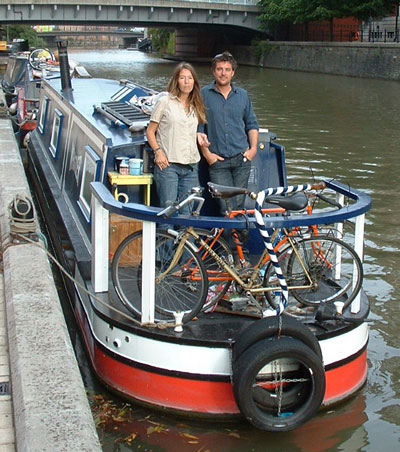 Rosie and Alfie are perhaps about as bohemian as they come. They are both artists, who live on a boat and smoke. Alfie used to cart a 12V car battery to work on a bike on a weekly basis to power his DAB radio. At least the reception was good.
The harbourmaster recently paid a visit to commend Alfie on doing an excellent job maintaining Whistler. This is how to make Alfie cheerful.
Kelly – Cep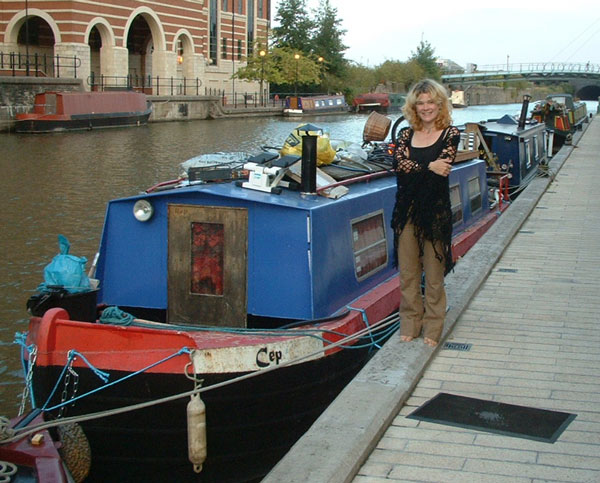 Another relative new-comer Kelly has managed to integrate into the community a bit more by not having a baby (see Scott & Abi and now Alfie & Rosie!). Also works at 20th Century Flicks and once tried with Dave to break into the underground tunnels in Bristol after watching The Descent.
Don't know much about Cep as Kelly has not yet endured her first Winter when people generally discover all the shortcomings of their vessel. It has a stepmaster on the roof.
Lynn – Wagtail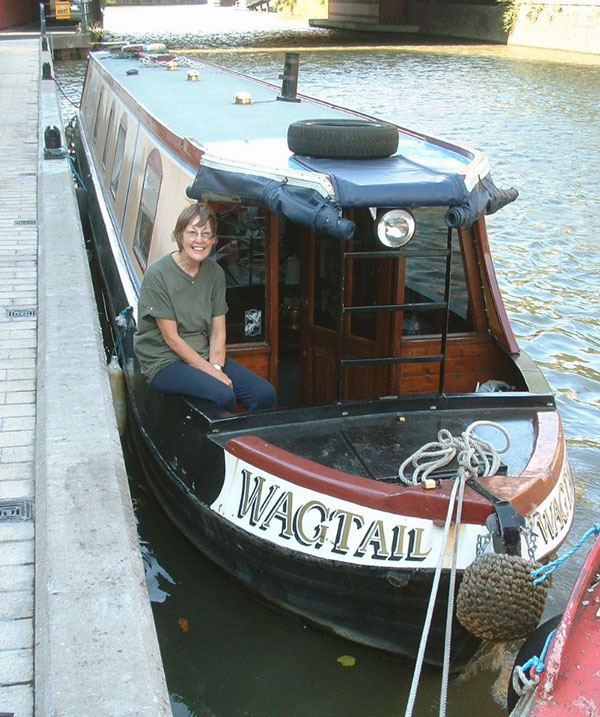 Lynn is going to get a favourable write-up since she feeds us cake and gave me nougat as a leaving gift. Lynn spends a lot of time reading and somehow landing cushy jobs house-sitting in London.
Wagtail is often inhabited by other people whilst Lynn is away. Most notably the mysterious Will, who is mysterious.
Honourable mentions
Many other boaters have been and gone or are passing acquaintances, some include (another) Dave who seemed to have left some of his mind near Ceylon, Rock-hard Ron on Lady Catherine who wearing only his pants fought off two armed drug dealers, Mo on Kali who has disappeared and the complete hermit, Brian(?), on See-Saw.
The epoque that was
Unfortunately the life of a boater is transitory. Even now many of the above boaters have expressed wishes to live (only a slightly) more sensible life on dry land or maybe abroad which is why I wrote this page. I hope to capture the years between 2004 and 2007 on Temple Quay, where, in Bristol's newest financial district I found myself chopping logs and having picnics on the concrete quayside with some of the coolest, most interesting people I know.
So long and thanks for all the booze!