This Easter (2004) we toured Provence in my amazing Renault 4. Its amazing since it is as old as I am, has a whopping twenty six horsepower and yet managed to get a trio of guys to Monaco and back in a shade less than a week. I love my car.
The following were places we stopped at on our route. Overnight stays are in bold.
Toulouse → Narbonne → Nimes → Fontaine de Vaucluse → Isle sur la Sourde → Mt. Ventoux → Gorges de Verdon → Digne les Bains → Cannes → Nice → Monaco → Cap Ferrat → Nice → Les Issambres → St. Tropez → Aix en Provence → Arles → Toulouse
Around Fontaine de Vaucluse
Mount Ventoux is a famous Tour de France leg. Back in the day, cyclist Tom Simpson died halfway up after necking a load of whiskies. We went to see the memorial.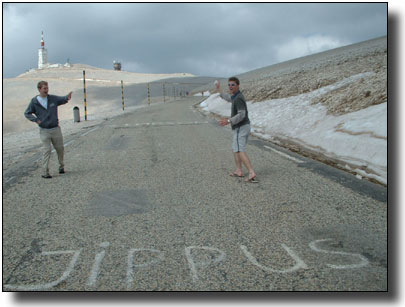 The Gorges of Verdon were very pretty. Neil and James celebrated its beauty by getting plastered.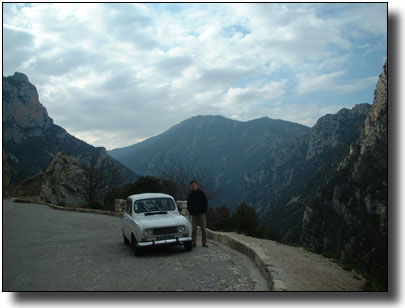 Cannes and Nice
As soon as we arrived in Cannes we headed for the beach. The guys crashed on the sand since they they had caned two bottles of wine in the gorge. I, on the other hand, tried the water.

Unfortunately the petrol guage is broken so we had to rely on guess-work throughout the trip. On the way into Nice I overfilled the tank.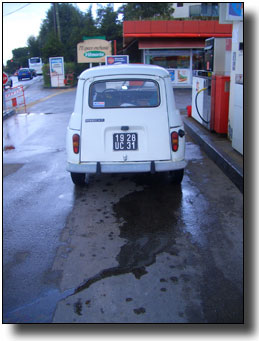 Getting stuck in the car in Nice old town was, in hindsight, fun but unfortunately we don't have any pictures, instead you will have to make do with our take of the classic Promenade des Anglais shot.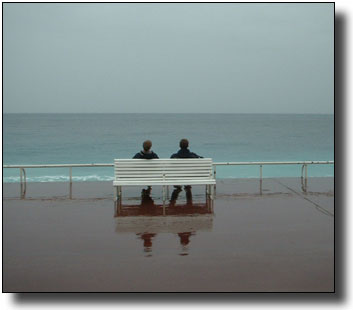 The car is named Beti, short for Betina. I thought it sounded a bit twee until I saw it written and now it has grown on me. Here is a rare interior shot leaving Nice and onto St. Tropez, playing Edith Piaf on the ghetto-blaster, (which, incidently, ate batteries).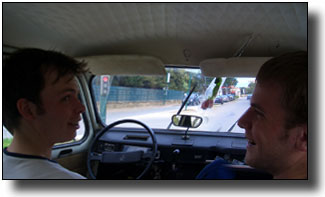 Beti in Monaco
Our furthest destination on our Easter road-trip was Monaco. We took lots of pictures in the area.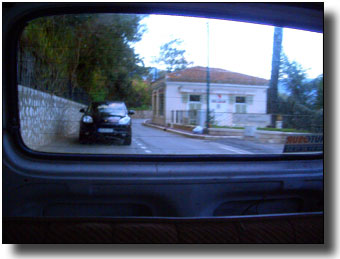 We couldn't resist the infamous Monaco hairpin. The car maxes out at about 70mph and handles like a mattress on a go-kart however the city speed limit was much less, so overtaking was no problem. The bus stopping to pick up passengers also helped.

On the way back
We passed through the Carmargue on the way back. Aside from the flamingos, we think the following picture sums up the Carmargue.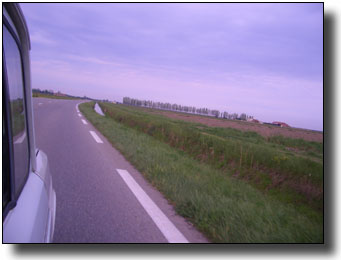 Summary
Et voila, our trip in a cyber-nutshell. I and the guys had a great time and although we didn't speak a great deal of French, it certainly felt French to be driving round Provence in a Renault 4. In fact, it felt good and not that garlicky at all. However it does beg the question what next? Tuscany in a Fiat 500? Devon in a Mini? Maybe even Romford in an Escort Ghia?